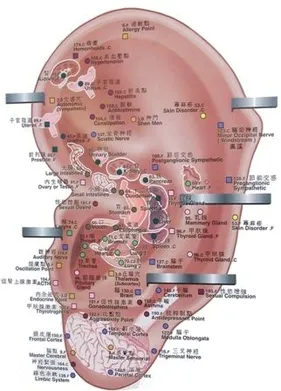 Auricular Therapy/Cranial Nerve Augmentation
The concept of Auricular Therapy is that the nerves in the skin overlay specific areas of the external ear which correspond to specific parts of the brain, which has a reflex connection to the body. These reflexes are activated when problems in part of the body induce reflex reactions in the external ear, manifested as changes in tenderness and altered blood circulation. These reflexes are stimulated when pressure is applied  to points on an ear in order to help  another area of the body.
Stimulation of ear reflex points leads to a diminished tenderness of the affected area. By correcting pathological reflex centers in the brain, stimulation of auricular points can lead to balance, where any form of stress or pain is lessened.
Auricular reflexology can be used to treat health conditions in distant parts of the body. Stimulating points in the ear can not only help problems in the face and head, but can also relieve pathological disorders in the chest, abdomen, lower back and feet. The theory is that nerves from the ear connect to reflex centers in the brain, which send neurological reflex pathways to the spinal cord and then to neurons going to the spine or to the foot. For instance, the stomach may be sending a message to the brain saying, "Stomach hurts." Stimulating the reflex points sends a message to the brain, "stomach okay, stomach okay," then the brain send a message to the stomach saying, "You're okay."

Among licensed medical practitioners, the most common reported uses for Auricular Therapy have been for control of appetite in weight loss, chronic pain, and to assist in the improved function or organ and gland issues.